The Obama presidential campaign is launching an effort to collect Republican email addresses by inviting its supporters to submit information about their Republican associates to the Obama 2012 website.
The effort could help the Obama campaign build a database that would enable it to target Republican voters during the general election campaign. But, more perniciously, it could also become part of an Democratic effort to influence Republican primary voters to select a candidate Democrats think Obama could most easily defeat.
The Democratic National Committee last month released a video that seemed designed to damage Mitt Romney, the GOP candidate feared most by the Obama campaign.
The Obama information collection effort is cast under the mischievous guise of asking Obama supporters to "have a little fun at the expense of a Republican in your life" by signing them up to get an email from the Obama campaign ribbing them for having "inspired" the Obama supporter to donate.
The result, however, is that the Obama campaign gets a new trove of Republican email addresses that it could never have collected through voluntary submissions.
From the Obama website:
Who inspires you to give?

This holiday season, we're giving you a chance to have a little fun at the expense of a Republican in your life by letting them know they inspired you to make a donation to the Obama campaign.

Simply enter their name and email address below. Then, we'll send them a message letting them know they inspired you to donate.

Thank you for supporting this campaign, and happy holidays.

Important: By making a donation today, you'll be automatically entered for a chance to have dinner with Barack and Michelle Obama. By clicking on the "Submit" button below or otherwise participating in the promotion, you agree to be bound by these Official Rules and represent that you satisfy all of the eligibility requirements.
The effort is being supported by emails from the campaign to members of the vast Obama 2012 email list urging them to participate.
One message, from Deputy Campaign Manager Julianna Smoot, also invites donors to buy something from the Obama 2012 store for their Republican friend.
Really want to fire up your GOP friends? Buy them a gift from the 2012 store. I recommend the birther mugs — they get the message across pretty well.
The email was sent Tuesday. If the Obama supporter sends the gift directly to their Republican friend, then the campaign has a new personal address for its database
Conservative Black Forum
On January 23, 2012, Congressman Allen West is sponsoring a Conservative Black Forum. The event will be moderated by Star Parker. It is a free event, held in the Capitol Building from 10am to Noon.
I am making an appeal to all Black Conservatives who can attend to do so. As our President said in a recent interview, this is a "make or break moment" for America. The problem is, his administration is breaking us. We must do all we can to reverse the tide in Washington. It will mean banding together, creating solutions, and working, working, working to educate our communities, and effect change.
Please contact Reginald Darby, Senior Legislative Assistant, for more information and to register!
Obama Hires Planned Parenthood Official to Run Campaign in NC
by Steven Ertelt | Washington, DC | LifeNews.com |
President Barack Obama has worked closely with Planned Parenthood to promote abortion since his election in 2008 and that relationship grew closer as he has hired a former abortion business official to run his campaign in North Carolina.
The Obama campaign hired Lindsay Siler, the former director of public policy for Planned Parenthood Health Systems, to head its efforts in North Carolina, one of the pivotal battleground states Obama took from the Republican column in 2008 to pave his way to the White House.
In 2007, Siler worked for the Hillary Clinton presidential campaign, Obama's former Democratic rival turned Secretary of State, and now she is excited to help perhaps the most pro-abortion president since Roe v. Wade get another four years to force Americans to fund abortions and the Planned Parenthood abortion business domestically and abroad with taxpayer dollars.
"They were truly building a collective voice, the grass-roots organization we've all dreamt about," she told the Charlotte Observer about what she saw in the Obama campaign in 2008 so, when asked to head up the North Carolina shop this time, she added, "there was no way I was going to pass that up."
About her time at Planned Parenthood, she told the newspaper, her working for the abortion business was no surprise.
"Either I was born a feminist and was raised an activist," she says, "or I was born an activist and raised a feminist."
Obama curried favor with the head of Planned Parenthood in May when he met with about 50 people during a dinner at a posh home in West Lake Hills, Texas owned by venture capitalist Blaine Wesner and philanthropist Alexa Wesner. There, leading Democrats forked out $35,800 per person and $50,000 per couple to attend the swanky event with the president.
Although a public list of the names of the guest was not released, one prominent attendee outed herself:  Planned Parenthood president Cecile Richards.
"Dinner with President Obama in my home town! Doesn't get nuch [sic] better than that," she said on Twitter.
Richards is one of the most frequent visitors to the White House and top Obama administration events and she last spent time with the Obamas when Michelle Obama gave an award to Pakistan's Ghulam Sughra during the International Women of Courage Awards ceremony at the State Department in Washington in March. Sughra was honored along with other recipients of the International Women of Courage Award at a ceremony where Obama said that, by overcoming fear and speaking up, the award winners had inspired other women to use their voices.
Visitor logs LifeNews.com obtained in February 2010 revealed what pro-life advocates suspected would happen once President Barack Obama took over as president. He and his administration have allowed the Planned Parenthood abortion business unfettered access to the White House and top staffers.
At that time, Richards had visited the White House and spent time with Obama administration officials on four occasions.
The close relationship prompted Obama to reject requests from pro-life Speaker John Boehner to cut off taxpayer funding to Planned Parenthood.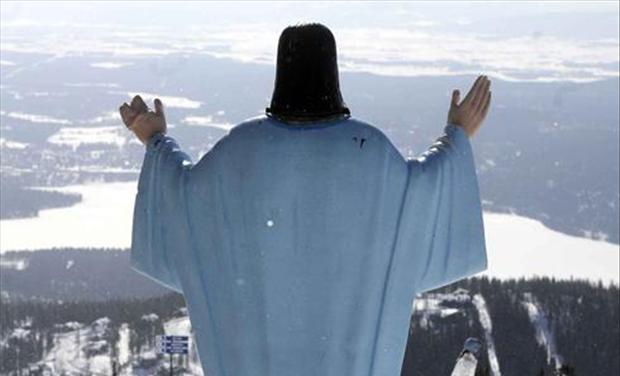 By
Jay Sekulow
Filed in:
American Heritage
2:41 PMDec. 7, 2011
Your voice has been heard!
Last week, we sent the National Forest Service our letter defending the Jesus war memorial statue on a Montana mountain – with more than 70,000 names – concerned individuals who stood with us in urging the Forest Service to renew a long-standing lease that would permit this historic memorial to stay atop Big Mountain, where it was placed nearly 60 years ago.
The Freedom From Religion Foundation (FFRF), an atheist, anti-Christian group, is opposing the lease renewal, calling this display "a ruse and a sham."
We sent our legal analysis explaining why this memorial should remain in place – a constitutionally-permissible expression to mark the sacrifice and honor World War II veterans who gave their lives defending liberty.
We included the names of individuals who signed on to our letter. The names of 70,148 concerned individuals were printed and sent along with our letter.
I knew it would make an impact. But I had no idea how much. A Forest Service spokesperson says a little more than 90,000 comments have been submitted about the war memorial. Our submission – that included the names of 70,148 concerned individuals – represents nearly 80% of the total comments received. That's right, without a doubt – your voice has been heard.
Another 10,000 comments backing the statue and the lease renewal came from Montana Rep. Denny Rehberg's congressional website.
The deadline for public comment is tomorrow. The Forest Service says it will "review" the comments and prepare "a decision memo" on whether to renew the lease permitting the statue to remain in place. The federal agency says that's expected to occur in late January or early February.
We're hopeful the Forest Service rejects the flawed logic of the FFRF and takes the appropriate action by renewing the lease – clearing the way for the Jesus war memorial statue to remain in place.
Thanks to all of you who have stood with us on this issue. We will keep you posted.
A Critique of today's Republican Party? Pt. 1
Op/Ed by Ayesha Kreutz
Over the years there has been a concerted effort, on behalf of many, to rewrite political history, especially when it comes to that of the Democrat Party. After finding this out, I set out to find the truth and answer a question that has been on my mind. Is the Republican the same party it once was? In studying the history of the Republican Party, I have to admit that I found myself rather impressed. The Republican Party was formed for the purpose of abolishing slavery and it succeeded with Lincoln as its first
president. President Lincoln, the first Republican president, won running on the platform of ending slavery and of being for equal rights. In response, the
Democrats promptly started a Civil War because they'd rather dissolve the Union than give up their slaves.
In 1854, the anti-slavery Democrats, Whigs and Free Soil Advocates of Emancipation formed the Republican Party to fight slavery. Six of the nine planks on the original platform dealt with black equality and civil rights. At the same time, the Democrat Party argued that the abolition of slavery "would lead to the unhappiness of the people." They obviously weren't considering blacks as part of "the people."
Democrat-appointed judges came up with the Dred Scott Decision. The first civil rights acts from 1866 through 1875- including the 13th, 14th and 15th
amendments- were all passed by Republicans, against the will of the Democrat Party. But this fact is rarely talked about in history classes. In fact,
schools I grew up in act like Civil Rights all started in 1964.
I look at these facts and many others, and I have to wonder, why did I not know? The 13th Amendment got all 118 Republican votes in Congress and only 19
of 82 Democrat votes- meaning 77% of the Democrats voted against freeing the slaves. This fact, when comparing the platforms of the two parties, makes me
ask: should I, should blacks, vote for Democrats or Republicans? Are we voting for our values? Since blacks are not all the same, there is no
one-size-fits-all answer. Yet the black vote is more overwhelmingly tied to the Democrats than that of any other group. Nearly 90% of all blacks vote for
Democrats, leaving themselves overly susceptible to being taken for granted by the party they vote for and ignored by the party they vote against.
Inevitably people bring up the "Dixiecrat" issue and Kennedy's 1964 Civil rights act, but upon further examination, I again found a few things that got
me to thinking. The history and formation of the Dixiecrats is quite fascinating, but is by far the easiest to refute if one studies history honestly. I won't
get into the whole "Dixiecrat" history right now, maybe at a later point, but I will quickly answer the question "Where did the Dixiecrats go?" Contrary to
legend, it made no sense for them to join with the Republican Party, which is the party of civil rights achievements. The answer is, they returned to the
Democrat party and rejoined others such as George Wallace, Orval Faubus, Lester Maddox, and Ross Barnett. Interestingly, of the 26 known Dixiecrats (5 governors and 21 senators) only three ever became Republicans: Strom Thurmond, Jesse Helms and Mills E. Godwind, Jr. The segregationists in the Senate, on the
other hand, would return to their party and fight against the Civil Rights actsof 1957, 1960 and 1964.
The issue of President Kennedy isn't as simple as that of the Dixiecrats, but an issue of political brilliance so I do want to dive into that history which I
will do in a moment but first let me look at "What has the Republican Party done for the black community lately?" Well, after more self motivated research,
as this was not information offered to me by schools or the mainstream media news outlets, I again was left with a slew of information that gave me GREAT reason for pause from my initial thinking. While it seems that the Republican Party has given up its mantle as the party of small government to an extent,
which I honestly do not think is a good thing, I did find some statistics, policies and bills put forth by Republicans that were interesting. Let's first
consider these little tidbits:
While over 80% of Americans support the following propositions, only 13% of Democrats voted to allow voluntary prayer in schools, only 21% of Democrats
voted to allow the public display of the 10 Commandments, only 5% of Democrats voted to allow free speech for churches, only 15% of the Democrats voted to
protect marriage, and only 17% of Congressional Democrats voted to keep "Under God" in the Pledge of Allegiance. While the Republicans are for these ideals
along with the majority of black voters, the Democrats prove that they are not democratic by voting against the majority.
Another item of particular importance to blacks was President Bush's faith-based initiative that put church-based social services programs on an
equal footing with secular programs when competing for government grants. President George W. Bush appointed more blacks to high-level positions than any
president in our nation's history and spent record money on education, job training, small business development and health care. But with that said during
President Bush's tenure…….
Oh, sorry I ran out of space so stay tuned for part 2. I will continue to study
up on this subject, as well as go over the Kennedy issue and I invite you to
not only do the same but share with me what you find as I expect all who read
this to hold my feet to the fire and make sure I have not only my facts
straight but that it is the TRUTH
On December 7, 1869
, Frederick Douglass delivered a speech, in Boston, Massachusetts. The speech was entitled, "Our Composite Nation" and Douglass responded to the question of whether the United States is better or worse because of the different races within the country.
During the speech he said, "The mission of the United States is unmistakable. Our geographic position, our fundamental principles of government, our vast resources, and our composite population all conspire to one grand end.
And that is to make us the perfect national illustration of unity and dignity of the human family the world has ever seen."
Washington's Blog
Wednesday, December 14, 2011
Even at this 11th hour – when all of our liberties and freedom are about to go down the drain – many people still don't understand that the indefinite detention bill passed by Congress allows indefinite detention of Americans on American soil.
The bill is confusing. As Wired noted on December 1st:
It's confusing, because two different sections of the bill seem to contradict each other, but in the judgment of the University of Texas' Robert Chesney — a nonpartisan authority on military detention — "U.S. citizens are included in the grant of detention authority."
A retired admiral, Judge Advocate General and Dean Emeritus of the University of New Hampshire School of Law also says that it applies to American citizens on American soil.
The ACLU notes:
Don't be confused by anyone claiming that the indefinite detention legislation does not apply to American citizens. It does. There is an exemption for American citizens from the mandatory detention requirement (section 1032 of the bill), but no exemption for American citizens from the authorization to use the military to indefinitely detain people without charge or trial (section 1031 of the bill). So, the result is that, under the bill, the military has the power to indefinitely imprison American citizens, but it does not have to use its power unless ordered to do so.

But you don't have to believe us. Instead, read what one of the bill's sponsors, Sen. Lindsey Graham said about it on the Senate floor: "1031, the statement of authority to detain, does apply to American citizens and it designates the world as the battlefield, including the homeland."
Another sponsor of the bill – Senator Levin – has also repeatedly said that the bill applies to American citizens on American soil, citing the Supreme Court case of Hamdi which ruled that American citizens can be treated as enemy combatants:
"The Supreme Court has recently ruled there is no bar to the United States holding one of its own citizens as an enemy combatant," said Levin. "This is the Supreme Court speaking."
Levin again stressed recently that the bill applies to American citizens, and said that it was president Obama who requested that it do so.
Under questioning from Rand Paul, another co-sponsor – John McCain – said that Americans suspected of terrorism could not only be indefinitely detained, but could be sent to Guantanamo:
See Here: http://www.youtube.com/watch?feature=player_embedded&v=aUHh1iqe43w
U.S. Congressman Justin Amash states in a letter to Congress:
The Senate's [bill] does not even distinguish between American citizens and non-citizens, or between persons caught domestically and abroad. The President's power, in his discretion, to detain persons he determines have supported associated forces applies just as strongly to Americans seized on U.S. soil as it does to foreigners captured on a far away battlefield.
Colonel Lawrence Wilkerson – General Colin Powell's chief of staff – says that the bill is a big step towards tyranny at home.  Congressman Ron Paul says that it will establish martial law in America.
Indeed, Amash accuses lawmakers of attempting to intentionally mislead the American people by writing a bill which appears at first glance to exclude U.S. citizens, when it actually includes us:

Pres. Obama and many Members of Congress believe the President ALREADY has the authority the bill grants him. Legally, of course, he does not. This language was inserted to keep proponents and opponents of the bill appeased, while permitting the President to assert that the improper power he has claimed all along is now in statute.

***

They will say that American citizens are specifically exempted under the following language in Sec. 1032: "The requirement to detain a person in military custody under this section does not extend to citizens of the United States." Don't be fooled. All this says is that the President is not REQUIRED to indefinitely detain American citizens without charge or trial. It still PERMITS him to do so
Comments
comments